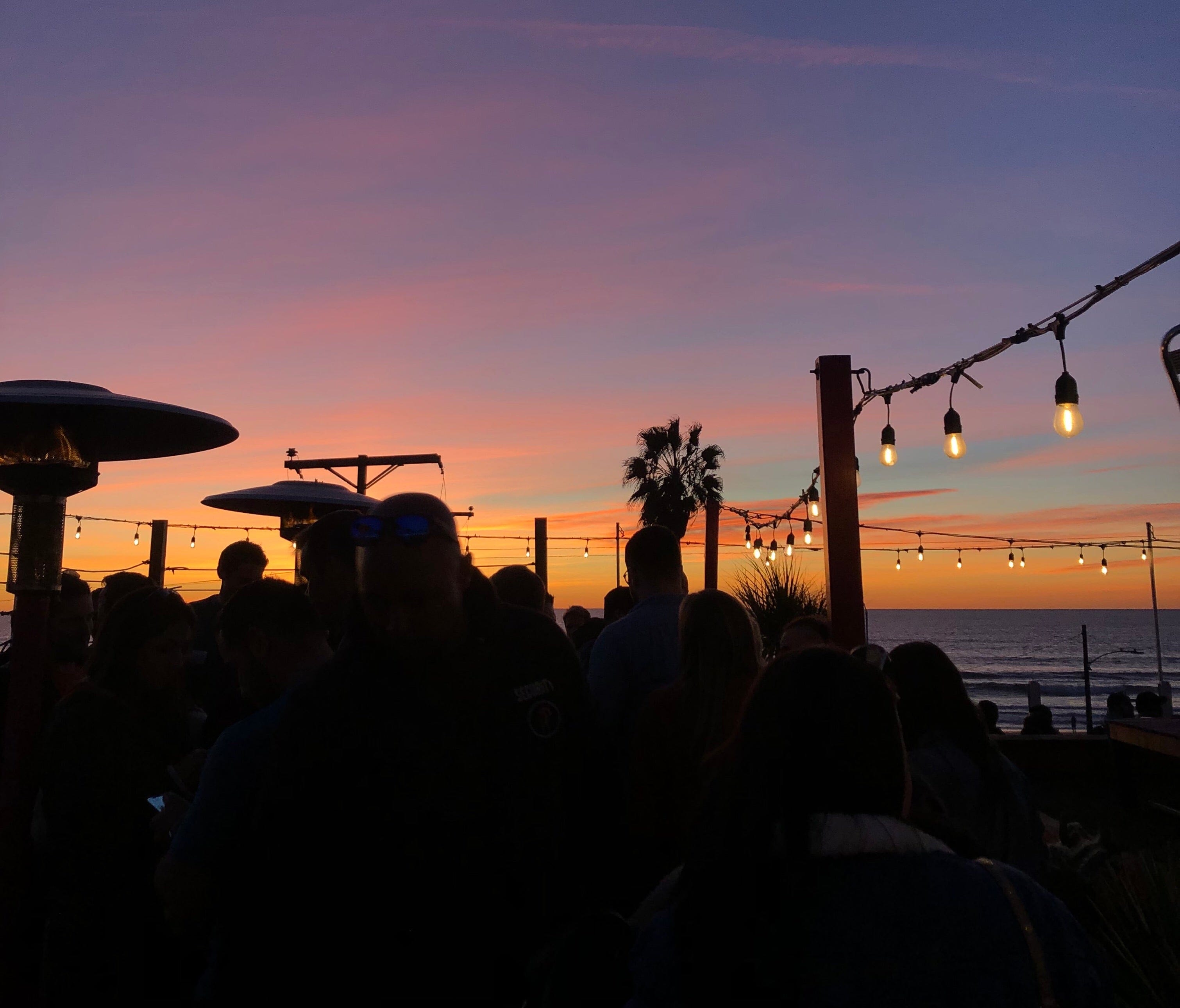 A particular event that makes living in San Diego so desirable, are the sunsets. In any of these places we mention throughout this blog, a slight applause uproars throughout the crowd as san diegans gather to end their day together watching the sun go down. For those visiting and those who reside here, we want to give you all a list of the best places to grab the sunset here in San Diego.
We're going to start with our all time favorite spot. Maybe it's the friends, maybe it's the food and wine, but every sunset made on Law street is guaranteed a great one. For those of you who don't know, Law street is located in Pacific Beach and this grassy spot is reached once you get to the very end of the boardwalk. From yoga mats to tapestry, you'll find people gathered here at all times of the day, sunset is the most rewarding. Easily reached from the boardwalk or by car, the end of Law street is first on our list. Bring your friends and a bottle of wine and relax with your fellow sunset lovers for the perfect end to any day.
Even though technically it's labeled a dog park, the sweeping views of Kate Sessions Park are unbeatable for sunset. Perched on a long hill, you can lay a blanket down and look ahead at the view you'll catch of downtown, the bay, and the ocean. Much more calm than a few of our other options, this park is large enough to enjoy some peace and quiet as the sun goes down. The park is located just up the road from Pacific Beach on your way out of La Jolla. An easy destination to get too from Google maps, this sunset spot is waiting for you as soon as you park the car.
This next spot might be visited for more of a reason than the sunset given it's intensity and exclusivity, but again, it's one of our favorites. This is no feat for those unadventurous, the sit spot formed into the rock of Ho Chi Minh Trail is not the easiest of places to get too, but man is it worth it. You can find the trail by simply typing it into Google maps, but the entrance is a little tricky to find between the mansion driveways you'll find yourself in. I wish there were an easier way for me to explain this to you, but there really isn't. When you park your car at the location your maps gives you, look around for a small path that looks like people have been walking on it. You will walk through two fences until you emerge to see the view below.
As you find your way down the trail, right before you come upon the option to burrow down into the windy rock path, hold up, and walk to the left on the rock ledge overlooking the valley to the ocean. This, is one of the best places to sit and watch as the sun goes down.
Obviously it wouldn't be right for us to write a blog about the sunset's in San Diego without mentioning Sunset Cliffs in Point Loma. While it is one of the most visited spots for Sunset, it earns its reputation. This is another stunning spot to bring a blanket, your closest friends and a bottle of wine at the end of the day. On the edge of California, these massive cliffs wind down the edge of Point Loma and are easily accessible.
We could go on and on about the best places to catch the sunset in San Diego, the truth is there are hundreds more. But something about watching it go down here remains metaphorical to all of us. Wherever you are in San Diego and wherever you are visiting from, we hope you can get out and enjoy the sun go down at one of our favorite spots!
---